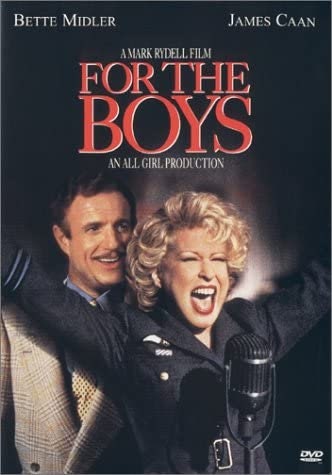 Details
For the Boys is a 1991 American musical comedy-drama film that traces the life of Dixie Leonard, a 1940s actress/singer who teams up with Eddie Sparks, a famous performer, to entertain American troops.

As in The Rose, Midler's first starring role and also a blockbuster quasi-biopic, the film is fiction. However, actress and singer Martha Raye believed that Midler's character was based on many widely known facts about her life and career with the USO and pursued legal action based on that assumption. After a protracted legal engagement, Raye ultimately lost the case. The Caan character was generally believed to be based on Bob Hope.

The film was adapted by Marshall Brickman, Neal Jimenez, and Lindy Laub from a story by Jimenez and Laub. It was directed by Mark Rydell and the original music score was composed by Dave Grusin. It stars Bette Midler, James Caan, George Segal, Patrick O'Neal, Arye Gross, and Norman Fell. A then-unknown Vince Vaughn made his film debut as a cheering soldier in a crowd.

For her performance, Midler won a Golden Globe Award and was nominated for the Academy Award for Best Actress. The soundtrack features covers of many classic songs, including "Come Rain or Come Shine", "Baby, It's Cold Outside" by Frank Loesser, "P.S. I Love You", "I Remember You" and the Beatles' "In My Life". Five of the thirteen songs have lyrics by Johnny Mercer. The soundtrack's first single, "Every Road Leads Back to You," was an original written by Diane Warren.

Despite a mixed critical reception and box office failure, the film was adapted for the musical stage in 2011 by Aaron Thielen and Terry James and debuted at the Marriott Theatre in Lincolnshire, Illinois.